Hitchers
Hitchery... Hitcher… Hitchhiker. Yeah, I guess that makes sense.
A hitcher is virtual hitchhiker who travels the world on people's phones (which are buses) to visit real world places. Your hitcher can hang out at your coffee shop and hitch a ride with a total stranger to visit some far and distant land.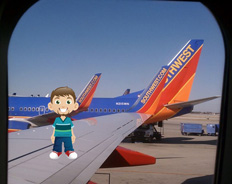 You can stay home and track where your hitcher goes
Anonymously send messages to bus drivers or other hitchers
Collect photos of their travels
Set photo and location goals that people can help you achieve
Earn custom hats for accomplishments
Not all hitchers are created equal
To start you can create a custom hitcher. Want to stand out a little bit to tempt bus drivers to pick you up? You can upgrade to create unique and interesting hitchers that aren't quite human.
Your hitcher stuck somewhere remote?
Keep in touch with your drivers to make sure they drop your hitchers off somewhere you can get picked up again. If your hitcher gets dropped off somewhere in the middle of the ocean, you can always call them home. Just make sure you have an empty seat on your bus.
Friends don't let friends hitch alone
Well, maybe they do. You can send one of your hitchers to a friend's bus as long as they have an empty seat. They can take your hitcher around and share photos of the two of them having fun without you! Man, your hitcher is quite the party animal. You have some big shoes to fill.